Vet staff | Nursing staff | Administration staff
Lisa has been working for The Cat Clinic since 2008.
Since working here she has developed an interest in rehoming and adoptions, and thoroughly enjoys caring for the many cats that board at our Paddington clinic.
Lisa lives with her very naughty tortoiseshell cat Mai, and would love to have many more pets (if only Mai would allow it).
Amanda has worked for The Cat Clinic since 2008. She has recently completed her Certificate II in Animal Studies, and plans to continue her studies with Certificate IV in Veterinary Nursing. You will find Amanda working at our Clayfield clinic.
Amanda lives with her beautiful Devon Rex Lambchops
Stacey Seater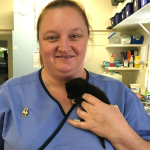 Stacey has been nursing for many years and joined The Cat Clinic in 2006. Stacey is one of the senior surgical nurses and spends her days organising and attending to surgical cases. She has a great passion for cats and their wellbeing so plans to stay at The Cat Clinic for many years to come.
Stacey has 4 beloved cats and 2 dogs that she couldn't live without.
Ellen started at The Cat Clinic in March 2015 and is currently studying her certificate IV in Veterinary Nursing.
She spends most of her time helping out the senior nurses and fostering the stray kittens we get into the clinic which has become a passion of hers.
Ellen is delighted to share her home with her 4 cats 'Jasper', 'Lilly', 'Marshmallow' and 'Dee Dee'.
Hannah Beesley is one of our lovely nurses at our Paddington Clinic, spending her days looking after the boarding cats and helping out our senior nurses.
She is in the middle of studying for a certificate IV in Veterinary Nursing and can't wait to be finished! Hannah loves and cherishes her kitty 'Tarco' and most definitely couldn't imagine life without him.
Mia is always willing to help out the Senior Nurses and Vets whenever need be. Since starting with us in December 2014 she has completed a Bachelor of applied Science in Veterinary Technology and is putting her skills to good use.  Her sweet and gentle nature is reflected by the way in which she takes care of the cats around the clinic. She has 2 lovely cats at home 'Earl' who she got as a rescue kitten and 'Casper' a naughty little Burmese.
Kerrie Rant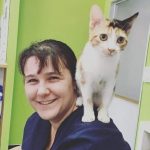 Kerrie joined The Cat Clinic team in March 2018 as a certificate IV veterinary nurse but has since completed her Diploma in Feline nursing. She can make your cats hospital stay as stress free and relaxing as possible with all her new skills. Kerrie and her husband Jordan share their home with 4 beautiful rescue cats 'Emma', 'Bruce', 'Razz' , and 'Toothless'.
Kerrie regularly helps us by fostering kittens who aren't quite old enough for re-homing yet, or who may need a little time to socialize before making the big move to their forever homes
Becky joined The Cat Clinic team in October 2007, and completed her Certificate IV in Veterinary Nursing in November 2010.
Becky and her partner Adam, live with their two cats 'Dutchess' and 'Duke', and their Golden Retriever named 'Prince.'
Becky enjoys being a Veterinary Nurse and will continue to work with animals (preferably cats) for as long as possible.

Lynda joined The Cat Clinic at the beginning of 2010. She has completed her Cert IV in Veterinary Nursing. She is not only kept busy at work, but also at home. She has 3 beautiful moggies, Teddy, Georgie and Lulu.
Lynda can be found welcoming you and your kitties on arrival at our Clayfield, Paddington clinic, and also likes to keep busy nursing at our Mt Gravatt clinic.
Kayla has been working as a Veterinary Nurse at The Cat Clinic since 2010, you will most likely see her at the Clayfield clinic. From a young age, she has had a passion for animals, with her and her family, looking after injured wildlife and rescuing animals with the RSPCA.
She shares her 'zoo' with 4 dogs and 6 cats. In the future, Kayla hopes to work in an emergency clinic as well as furthering her studies to work in a zoo.

Georgie thoroughly enjoys chatting to our Clayfield clients where she is normally based due to her unconditional love of all things feline; as well as this, she has a self-confessed soft spot for our 'older' residents.
Georgie shares her home with her husband, two teenage boys, and a British Shorthair named BB. As well as this she is also lucky enough to be a proud owner of a beautiful Border Collie named 'Nell'.
Jordan Brown
Jordan joined the clinic in 2014, and has since completed a Bachelor of applied Science in Veterinary Technology and a Certificate 4 in Veterinary Nursing. She has not yet added a cat to her family but shares her free time with her dog Kendra.