Vet staff | Nursing staff | Administration staff
Amanda has worked for The Cat Clinic since 2008, initially training at our Paddington clinic but has since taken over the running of the Clayfield clinic.
On the weekends you'll find Amanda playing video games, hiking with family or spending time playing with her beautiful Devon Rex Bambi.
Sophia McIlwain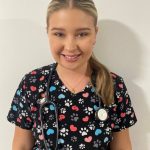 Sophia started working at the cat clinic in 2022, whilst I was studying my Cert III in animal studies. I am now well into my Cert IV in Veterinary nursing and I am constantly learning and developing my clinical skills with the fantastic team of nurses, techs and vets we have here at the clinic. Outside of work and studying I enjoy spending time with family, friends and my 2 little chooks Penny and Petunia. 
Taneesha Dalgleish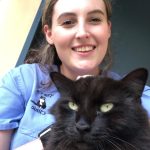 Taneesha joined us in 2021 as a newly graduated vet nurse. From a young age she realised she wanted to work with animals.
Since starting at The Cat Clinic she has realised her love of black cats and sphynx's. While training to become a vet nurse, Taneesha spent her free time volunteering at her local cat refuge and looking after animals all over the Sunshine Coast where she gained the nickname 'Auntie Taneesha' for many of these loving pets.
She currently shares her home with a dsh Maxine, and fosters for Best Friends rescue so there is never a quiet time at home.
In her free time she likes to play TRL, catch up with her friends and cuddle with her animals.
Jolly Yang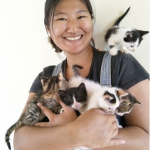 Jolly is a veterinary nurse and a UQ Veterinary Science student. She interned at a conservation organisation in Greece where she discovered two things: she wanted to be a veterinarian and she loved working with cats. She dreams of rescuing and befriending as many cats as possible.
Jolly is the mother of 3 children: 1 human and 2 rescue cats (Harmony and Mort). 
Mia Troost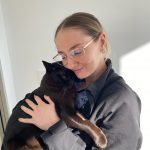 Mia is always willing to help out the Senior Nurses and Vets whenever need be. Since starting with us in December 2014 she has completed a Bachelor of applied Science in Veterinary Technology and is putting her skills to good use.  Her sweet and gentle nature is reflected by the way in which she takes care of the cats around the clinic. She has 2 lovely cats at home 'Earl' who she got as a rescue kitten and 'Casper' a naughty little Burmese.
Kerrie Rant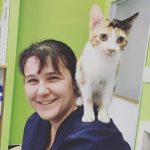 Kerrie joined The Cat Clinic team in March 2018 as a certificate IV veterinary nurse but has since completed her Diploma in Feline nursing. She can make your cats hospital stay as stress free and relaxing as possible with all her new skills. Kerrie and her husband Jordan share their home with 4 beautiful rescue cats 'Emma', 'Huckleberry', 'Razz' , and 'Toothless'.
Kerrie regularly helps us by fostering kittens who aren't quite old enough for re-homing yet, or who may need a little time to socialize before making the big move to their forever homes
Tahlia Ehrich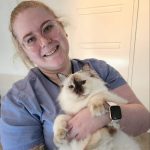 Tahlia joined the team in 2020 after graduating from the University of Queensland with a Bachelor of Veterinary Technology and has been instrumental in helping to keep Paddington and Clayfield running smoothly. She works at all 3 of our locations and is a valued member of staff.
She currently has 2 cats at home Poppy and Sky.
Becky joined The Cat Clinic team in October 2007, and completed her Certificate IV in Veterinary Nursing in November 2010.
Becky and her partner Adam, live with their cat 'Duke', and their Golden Retriever named 'Prince.'
Becky enjoys being a Veterinary Nurse and will continue to work with animals (preferably cats) for as long as possible.

Bettina Amarandos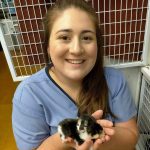 Bettina joined the team in 2019 and has been working mostly on weekends while she studies to become a veterinarian.
When Bettina isn't studying or working she likes to spend time with family, friends and her cat Henry, whom she adopted through The Cat Clinic.
Lucy Short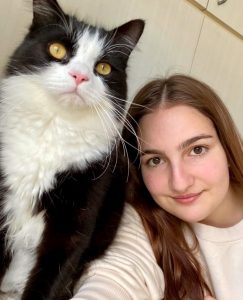 Lucy started at The Cat Clinic in 2019 working in the boarding section at Paddington, she has since moved on to become one of the main nurses at our new Paddington facility at Red Hill.
On her days off she likes to spend time playing board games, studying and reading books.

Jordan Brown
Jordan joined the clinic in 2014, and has since completed a Bachelor of applied Science in Veterinary Technology and a Certificate 4 in Veterinary Nursing. She has not yet added a cat to her family but shares her free time with her dog Kendra.