Vet staff | Nursing staff | Administration staff

Larissa has worked as a receptionist at The Cat Clinic since 2009. Her smiley face and friendly nature make for a warm, comforting environment for our clients and their feline friends. Larissa shares her home with a Lhasa Aspo Cross 'Hewey' and a black and white moggy named 'Jack' which she fell in love with and adopted from the clinic years ago.
Sue Rosentreter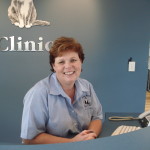 Sue has been bringing her cats to The Cat Clinic for many years now. When there was an opening for a receptionist at the clinic in 2008, Sue took the opportunity to work alongside the familiar faces who had looked after her beloved cats. Sue has a strong background in being a receptionist, her great people skills and friendly face leaves owners and their pets feeling very welcome on arrival at The Cat Clinic.
Pat has been integral part of the management team since the opening of the Creek Road Cat Clinic in 1980 and is the Practice Manager of The Cat Clinic Group. She is the first point of contact for outside suppliers, our financial controller and also manages our human resources department.
Pat has been working in the veterinary industry most of her adult life and has a good understanding of what it takes to make clients happy and why The Cat Clinic is such a good place for cats to visit.
Pat and her husband share their home with Charles, a beautiful brown Burmese who rules the house and likes nothing better than to jump on the shoulder of anyone who visits, especially if they ignore him.
Heather Windle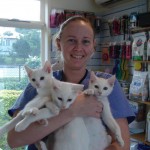 Heather has been at the Cat Clinic since 2003 as a nurse. She has recently moved to the Admin department and helps make sure the Cat Clinic runs smoothly.
You can also spot her driving around in the Cat Clinic car transferring cats from clinic to clinic. Heather is also charge of our adoption programme.
She has two cats at home, a Maine Coon called Atlas, and a Manx cat called Chaos.