Vet staff | Nursing staff | Administration staff

Mandy Doan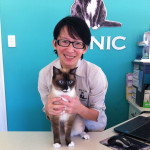 Mandy worked in general veterinary practice for 10 years and has always had a special interest in feline medicine. She joined The Cat Clinic team in 2006 and she is excited to be working solely with cats.
Mandy enjoys preventative medicine and the benefits that good veterinary care has for both cats and clients. Mandy attained her Membership of the Australian College of Veterinary Scientists in Feline Medicine 2 years ago.
Mandy and her husband share their home with 3 cats, 2 dogs and 1 lorikeet.

Petra Boettcher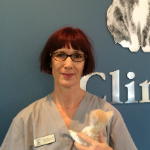 Petra graduated from Hannover Vet School in Germany in 1992.  After spending 2 years in England in a mixed veterinary practice, she moved with her partner, who is also a vet, to beautiful New Zealand. She worked in Auckland in a large, progressive small animal practice for many years, interrupted by 3 years living and working in Melbourne. Petra has always been a cat lover and in 2005 she was given the opportunity to work in the Auckland Cat Practice in New Zealand. She has dealt with cats only ever since. At the end of 2008 Petra relocated to Brisbane and joined The Cat Clinic.
Petra has two Devon Rex's at home called Mozzie and Beetle. Petra is interested in all aspects of feline medicine but enjoys most getting to know her patients and their owners and looking after them through their different life stages. She especially enjoys caring for those important family members, the older cats.
Alison Jukes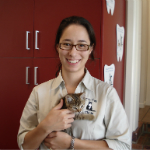 Alison started out as a casual at The Cat Clinic in 2008, and decided she loved working with cats so much, that she has joined the team on a full time basis.
Alison graduated from the University of QLD in 2006. She did an internship in a pet emergency centre in 2007, specialising in emergency and critical care. She has a keen interest in dermatology. Alison also has a Membership of the Australian College of Veterinary Scientists in Feline Medicine as of 2012.
Alison and her husband share their home with a number of kitties who have been adopted from the clinic, including Delilah, Jonah and Jeoffry, as well as 3 chickens and an assortment of tropical fish. They have recently added a dog Kite to the menagerie of pets.

Mandy Roe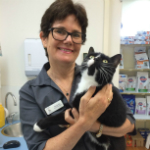 Mandy graduated in 1982 and has worked in a variety of veterinary practices over the years, including establishing and running a successful practice in Highgate Hill. She has been working part-time at The Cat Clinic for around 13 years now and has a special interest in Acupuncture.
Mandy is responsible for looking after her husband, son, two stepsons, two Labradors, two cats, two horses and chooks on a property at Sheldon.

Siti Abdul Khalid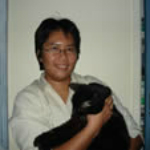 Siti Izatul Hawa… or Siti for short, was born in Malaysia, did her high school in England then embarked on her veterinary journey in Australia. She has been at The Cat Clinic since graduating from The University of Qld in 2003, has completed a Master's in Veterinary Science and has passed membership examination of The Australian College of Veterinary Scientists in Feline Medicine.
For the first few years, Siti did all the afterhours emergencies and looked after the hospitalised cats while everyone else went home. She can't remember the last time she has touched any other animal species and thinks herself lucky to only ever have worked at The Cat Clinic.
Apart from her great love of cats, Siti enjoys reading and swimming and along with her sister, shares a home with two lovely cats, Sofia and Selina.

Susan Gottlieb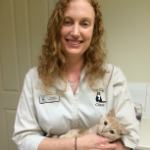 Susan graduated from Veterinary Science at The University of Sydney in 2007. She then moved home to Brisbane and has been working at The Cat Clinic ever since. She also completed her Memberships in Feline Medicine with the ANZCVS in 2012, and is currently completing a PhD through UQ looking at diabetic cats in remission.
Susan has a lovely cat who goes by the name of Dim Sim.
Luciano Lazo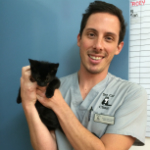 Luciano began working at The Cat Clinic at the start of 2011 and now is a full-time Feline Practitioner. Luciano graduated from the University of Queensland with honors in 2010. Born in Peru, he has lived in Australia since 2007. He has a passion for cats and reptiles, and hopes one day in the future to become a cat specialist, as well as a dedicated reptile hobbyist. He is very interested in surgery, as he likes nothing more than to get his hands dirty!
Luciano has 3 cats that he misses very much, as they are back home in Peru but enjoys spending time with his three kitties at home with him here in Australia.

Andrew Lau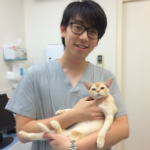 Andrew graduated from the University of Queensland in 2013 and has been working at the clinic since 2014 as a Feline Practitioner. Andrew grew up in Hong Kong and had to leave his pet turtle behind for his parents to look after when he came to Brisbane to attend high school, initially aiming to become a reptile vet. Andrew's interest in cats grew gradually throughout his time spent in University, whilst living with them and observing their behaviour.
He started spending time at The Cat Clinic in 2013 and realised he much preferred cats over any other animals. He is very excited to be working with cats only and he wishes to learn as much as he can about them, hoping to further his career in the field. In his free time, he enjoys watching football matches and listening to music.
Susan Jih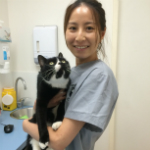 Susan graduated from the newly reformatted Doctor of Veterinary Medicine program from the University of Melbourne in 2014. While on her fourth year rotations, she completed a placement at a feline only practice in Melbourne. She loved it so much that she decided to make the move to Brisbane to work at The Cat Clinic Mount Gravatt and became as a Feline Practitioner within a month of graduating. Susan has successfully completed her Memberships in Feline Medicine with the ANZCVS in 2018.
Despite having dogs all of her life, Susan has a stronger affinity towards cats and is excited to be working with only feline patients. She is especially interested in internal medicine and oncology. When not working, Susan is servant to her King of the House cat, Mi-bao (meaning baby cat in Mandarin).
Nick Yeow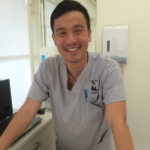 Nick graduated from the University of Queensland in 2014 and joined The Cat Clinic as a Feline Practitioner at the start of 2015. Nick is originally from Malaysia and came over to Australia to pursue his dream of becoming a veterinarian. During his degree at the University of Queensland, Nick worked as a nurse at The Cat Clinic and developed a keen interest in the feline patient. Nick has successfully completed his Memberships in Feline Medicine with the ANZCVS in 2018.
He especially enjoys orthopaedics and soft tissue surgery. Outside of work Nick spends his free time playing soccer, skateboarding and playing the drums.
Marcus Gunew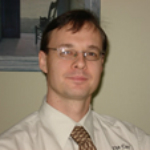 Marcus discovered his love for cats whilst still at The University of Sydney and upon graduating he moved to Brisbane to fulfill his dream of working at the largest Feline Only practice in Australia. Since arriving in 1996, Marcus has been responsible for the many changes and advancements within the practice.
With a special interest in ultrasonography and endoscopy, Marcus is usually found diagnosing and treating our really sick cats. He became a Registered Specialist in Feline Medicine in 2009.
Marcus and his family share their home with 2 Burmese cats, a beautiful little brown Burmese lady named 'Rosie', and a handsome yet very cheeky red Burmese boy named 'Mango'. There are also a number of chickens and a happy little Border Collie called 'Oreo'.

Vic Menrath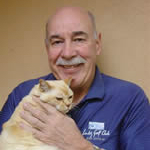 As the grandfather of Feline Medicine in Australia and founder of The Cat Clinic, Vic Menrath is deserving of a special mention. Vic grew up in New Zealand before graduating from Veterinary Science at the University of Queensland in 1968. A passionate love for all things feline led to the establishment of the Creek Road Cat Clinic in 1980 – the first cat-only veterinary practice in Australia and the only one in the world outside of the USA at that time.
Vic became a registered Veterinary Specialist in Feline Medicine in 1982 and established the only Feline Renal Transplant unit in Australia which has been operational for over 10 years. His special interest remains in diseases of feline kidneys. His achievements are simply too great to list, but probably the best thing Vic ever did was recognise that cats were different to dogs and that they should treated differently to dogs.

Rhett Marshall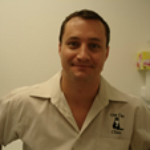 Rhett graduated from The University of Queensland in 1998 and quickly discovered the benefits of working with cats and joined the team in 1999.
Rhett has recently completed a PhD in Feline Diabetes and has been credited with changing the treatment outcomes for cats with diabetes. He has authored many publications and presented his research findings overseas. Rhett's real passion though is for surgery and he spends lots of his time with surgical cases. In 2003 he passed membership examinations of the Australian College of Veterinary Scientists in Small Animal Surgery.