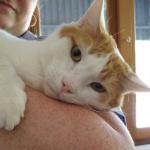 'Zephyr' is a very handsome man who is currently staying with us at The Cat Clinic Mount Gravatt while he waits to join a new family.  He is approximately 5 years old, desexed, microchipped and has recently had a dental to make sure his teeth are in tip top shape. 'Zephyr' has recently come to us from an animal shelter he was living in. He was in separate quarters to all of his buddies however, as 'Zephyr' has Feline Aids. He would love to join a home where he could be by himself with no other feline competition for the human cuddles, or in a household with cats that are FIV vaccinated. If you have any further questions about owning a cat with Feline Aids please do not hesitate to contact us on (07) 3349 0811.
If you can see 'Zephyr' as the newest member of your family, please contact The Cat Clinic Mount Gravatt on (07) 3349 0811
Update: Zephyr has found a home!